MIXED MARTIAL ARTS SCHOOL
Brazilian Jiu Jitsu and MMA
Hollywood, Florida
Welcome to Vagner Rocha Martial Arts
A Fight Sports Academy
Since 2008, the VRMA has been dedicated to teaching Brazilian Jiu Jitsu to children and adults as well as building healthy, and confident families. Whether you're looking to become a fighter or world champion, to learn self-defense, get healthy, to meet new people, or spend more time with your family, we're here for you. We will help you become the best version of yourself. When you become a member of VRMA you're joining more than just a martial arts dojo,  you're joining one of the best family-oriented academies in South Florida, offering the highest quality instructions of martial arts with a curriculum structured by our head instructor, Vagner Rocha, ranked the #3 Grappler in the world.  We are committed to transforming your body and your mind.
VRMA is the magic place you're looking for

I can't accurately express how good VRMA is but, I will try.

First, whenever learning anything of value, who teaches and how they teach it is of utmost importance. When it comes to Jiujitsu, Vagner Rocha is beyond top notch. Why? Google him for yourself but, he is not only a traditionalist with old school work ethic but, he is relevant in today's Jiujitsu world. His resume speaks for itself.

Secondly, his love for his art, love for his family, and love for his students makes his style of instruction more of a mentoring household rather than a place of business. His name is not only attached to the school, he teaches everyday, he picks who rolls against who because he knows his students strengths and weaknesses. In other words, you're not just a client.

Next, Monkey see monkey do right? Well his fellow instructors are made from the same mold. So, when you're taking one of the other classes in the morning, or on weekends, you are receiving the same high level Instruction. Additionally, the students become family. As a group we cherish this family. The feeling is palpable when you walk into the gym. Everyone wants to help each other become better, no one takes it easy on each other, always hard. Afterwards it's hugs positive feedback and support. It's incredible. I'm a fireman and I can compare to that brotherhood.

Lastly, at least for now, I hear parents come in because their children were being picked on, and or they've tried other places and felt their children didn't get enough one on one attention. Well at VRMA there are at least 4 instructors on the mat to support Vagner and assure that the children are getting all the help they need. Our kids are super high level and more importantly, disciplined well behaved little humans. I have yet to see a parent not happy with VRMA.

Bottom line, of you're looking for high level Jiujitsu training for you or your children ( we have many father/mother and son/daughter families), I can honestly say from experience, that VRMA is the magic place you're looking for. Don't take it from me though, come and see for yourself.

Danny Collazo

The instructors are great and the quality of instruction is top notch.

I've been training at Vagner Rocha Martial Arts for a little over a year. I've now recently enrolled my son and he loves it there more than I expected. The instructors are great and the quality of instruction is top notch. Training at VRMA is unique and special in that you're not just learning from a guy that talks about what he "used" to do. You're learning from an active competitor that is still teaching and competing at the highest levels of jiujitsu as it evolves. There's only a few schools in the entire state that can make that same claim.

If you are looking to begin and or improve, highly recommend you visit his school.

Maestre Rocha has always and continues to represent what a martial artist should be. He has been one of my instructors in my journey learning Brazilian Jiu Jitsu. If you are looking to begin and or improve, highly recommend you visit his school. Ous!!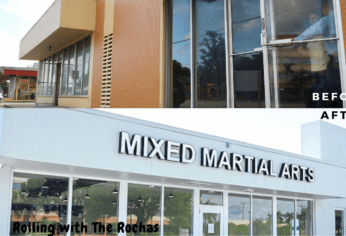 A year ago, we accomplished the dream of becoming property owners and to build their own Jiu Jitsu gym, the Vagner Rocha Martial Arts, after almost…
Check it out, head instructor black belt Vagner Rocha teaching how to open the guard, smash and tapping your opponent.