VAGNER ROCHA, Head Instructor
Brazilian born, Vagner Rocha first began training Martial Arts at the age of 16 while growing up in South Florida. Currently, Rocha is the owner and master instructor of two Vagner Rocha Martial Arts (VRMA) Center locations in Pembroke Pines FL, as well as an active professional mixed martial artist and Brazilian Jiu Jitsu competitor. 
Early into his Jiu Jitsu training, Rocha displayed exceptional talent, and quickly stood out as a top student due to his rapidly growing skills, technique, and superior work ethic. Throughout competition, Rocha emerged as one of the top grapplers from the state of Florida winning the International Brazilian Jiu Jitsu Federation's (IBJJF) Pan American Championship and placing 3rd in the IBJJF's World Jiu Jitsu Championship in 2007. Along the way to these prestigious victories, Rocha consistently proved his superior grappling ability as a multiple-time Grapplers' Quest, Copa America, and NAGA Advanced Division Champion. In 2007, Rocha was also awarded his Brazilian Jiu Jitsu black belt under esteemed grappler Pablo Popovich and successfully completed his certified instructor training.  
Beginning in 2009, Rocha began his professional MMA career fighting in notable organizations including Strikeforce and Bellator, defeating Igor Gracie. In between professional MMA bouts, Rocha continued to put his grappling dominance on display by winning the ADCC North American Trial in 2010. With an impressive MMA record, Rocha was signed by the UFC and made his promotional debut against perennial top contender Donald Cerrone in 2011. In his second UFC bout, Rocha defeated Ultimate Fighter alumni Cody McKenzie by submission due to a rear naked choke. That same year, Rocha won the 2011 Abu Dhabi World Pro trials as well as recieving medals in both his weight class and the absolute division of the Abu Dhabi Professional Championship. 
After another UFC bout against Jonathan Brookins in 2012, Rocha fought for the South Florida based Fight Time Promotions winning the ISKA Title Belt by submitting Mike Bruno and becoming the event's Lightweight Champion. As champion, Rocha dominantly defended his title three times within 2013. Victories included a unanimous decision against Kamrin Naville, a submission victory by rear naked choke against James Reese, and yet another submission victory against Randy Barroso, but this time by triangle choke. Rocha's impressive record and exciting fighting style caught the attention of the MMA world, being awarded "Best Pro MMA Fighter" at the 2013 Florida MMA Awards.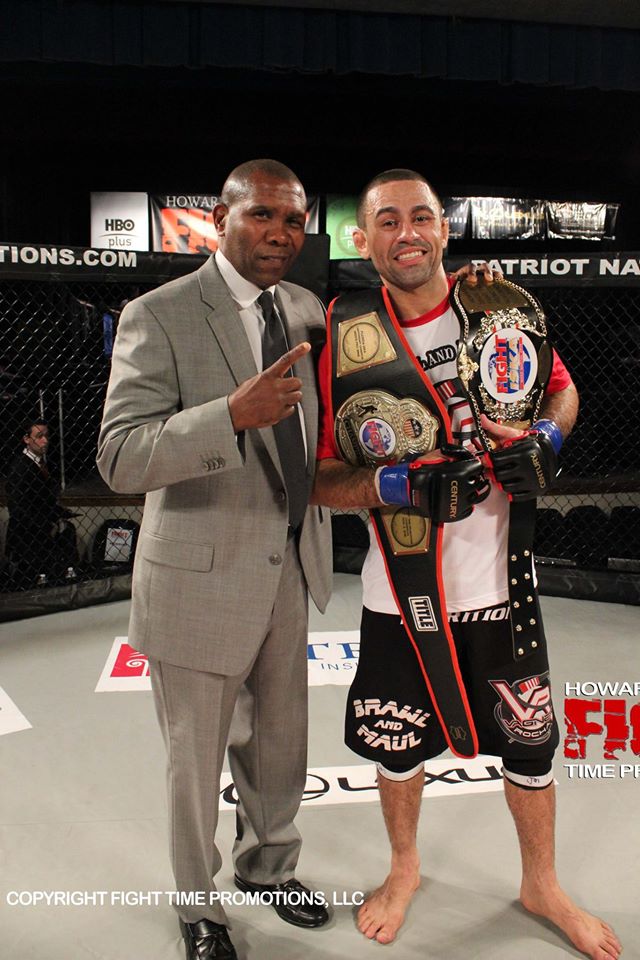 In 2013, Vagner broke his leg during training and he was forced to take a year off of fighting and competitions. Many doubted his return, saying he would never be as good as he was after the incident, but that only fueled Vagner's fire to return to the cage stronger than ever. Following his stint in Fight Time Promotions, Rocha made his UFC return in 2014. 
After vacating the belt, Vagner returned to the Fight Time Promotions cage on April 22nd of 2016, defeating Gabriel Miranda by TKO (punches) in the first round. Most recently, on August 12, 2016, Vagner earned an amazing third-round TKO victory over Rafael Alves by way of devastating leg kicks – regaining his title of Lightweight Champion and becoming the first and only man to hold the Lightweight Title in Fight Time Promotions' six-year history.
In 2017, even though Rocha started the year off by winning another Pro MMA fight at the Fight Time Promotions against a tough opponent, Yoislandy Izquierdo, he decided to redirect his focusing back on Jiu-Jitsu competitions. He was a finalist on both, EBI 11 and EBI 13, defeating big names such as Craig Jones, Issa Able, PJ Barch & Nathan Orchard. He won the exciting ADCC West Coast Trials for the third time, submitting three out of six opponents, defeating AJ Argazam in the finals.
Later in 2017, Vagner won Bronze at the ADCC Worlds Championship in Finland, showcasing hard-working victories, including one against Garry Tonon. But it was in November of 2017 that Rocha made history in the Jiu-Jitsu World, he became the first ever to win the COMBAT JIU JITSU WORLD Lightweight Division and the first one to ever win in regulation by TKO due to strikes.
Personal Life
Master Rocha is married. He is a father of  two kids. His wife, son and daughter also practice Brazilian Jiu Jitsu, and they are always supporting him in his MMA career.
Inside the Academy
Vagner Rocha makes sure every student receives the individual attention needed to constantly improve to the next phase of training. Master Rocha attends EVERY class and is hands on correcting mistakes and monitoring every student's improvement. 
VAGNER ROCHA CREDENTIALS
2019 POLARIS 9 CHAMPION – Defeated Ross Nicholls 
2018 POLARIS 8 CHAMPION -Defeated UFC Veteran Ben Henderson via RNC
2018 FIGHT TO WIN 89 (MIAMI, FL) Defeated Augusto "Tanquinho" Mendes
2018 XFN 21 Combat Jiu Jitsu Main Event Champion
2018 KASAI PRO 3 FINALIST (2 Subs, Most Points)
2018 Grappling Industries Super Fight Champion
2018 FIGHT TO WIN 68 (MIAMI, FL) Title Champion (Defeated Bill Cooper)
2018 FIGHT TO WIN PRO 58 (Sacramento, CA) Champion
2017 Submission Underground 6 Champion (Defeated Jesse Taylor)
2017 COMBAT JIU JITSU WORLDS Title Lightweight Champion
2017 EBI 13 Finalist (defeated Issa Able, PJ Barch & Nathan Orchad)
2017 ADCC Finland Submission Wrestling World Championship- Bronze Medalist (defeated Garry Tonon)
2017 ADCC West Trials Qualifier – Champion 
2017 Fight Time 35 Tittle Belt Champion
2017 EBI 11 Finalist (defeated Craig Jones) 
2017 Fight Time 35 Lightweight Winner (defeated Yoislandy Izquierdo) 
2016 FTP Lightweight Tittle Belt Champion  
2016 FTW PRO 14 Winner 
2016 Fight Time Promotions Lightweight TKO Winner (defeated Rafael Alves)
2016 Fight Time Promotions Lightweight TKO Winner 
2015 ADCC Sao Paulo Competitor (defeated Romulo Barral)
2015 ADCC North American Qualifier FL – Champion
( 2014 Rest Year – Recovering from broken leg)
2013 Best Pro FL MMA Fighter of the Year Award
2013 World Martial Arts Hall of Fame Award
2013 Fight Time Promotions Lightweight Champion (defeated Randy Barroso) 
2013 Copa America Lakeland  Expert Absolute Gi and No Gi division
2013 Fight Time Promotions Lightweight Champion (defeated JP Reese) 
2013 ADCC North American Trials OH – Silver Medalist
2013 Fight Time Promotions Lightweight Champion
2012 Fight Time Promotions Lightweight/ISKA Champion
2012 Copa America Grappling Champion Weight & Absolute
2011 UFC Fight Night Champion (defeated Cody Mackenzie)
2011 World Pro Abu Dhabi 2011 No Gi 3rd Place Weight
2011 World Pro Abu Dhabi 2011 No Gi 3rd Place Absolute
2011 Absolute Champion Deland, BJJ Open
2011 Absolute Abu Dhabi World Professional Trial Jiu Jitsu Champion
2010 ADCC North American Trials NY – Champion
2010 Florida Extreme Grappling Absolute – Champion
2010 Bellator Fighting Championship  – Champion via TKO (defeated Francisco Soares)
2010 Action Fight League Rock-N-Rumble 2 MMA – Champion
2009 Noche de Combate Lima, Peru MMA – Champion
2009 Florida Grappling League 170lbs Weight – Champion
2009 Florida Grappling League Absolute – Champion
2009 Grapplers Quest Weight – Champion
2009 Grapplers Quest Absolute – Champion
2009 Bellator Fighting Championship 11- Champion (Defeated Igor Gracie)
2009 NAGA Absolute – Champion
2008 World IBJJF Jiu Jitsu – 3rd Place
2007 Pan-American Jiu-Jitsu – Champion
2007 NAGA Miami Super Fight – Champion
2006 NAGA West Palm Beach Absolute – Champion
2003 -2005 6 Time NAGA Advance Division – Champion
2002 NAGA Champion Gi & No Gi
3 Time Copa America Absolute – Finalist
3rd Degree Black Belt Certified Instructor
UFC Fighter Veteran